This article was originally posted as Orca Protocol on orca.mirror.xyz.
---
gm
2021 has been one of the most interesting years so far for DAOs. As DAOooooors, it is important that we take proper time to look back, reflect and introspect. Maybe we missed out on an airdrop here and there, maybe we burned a bridge or two. But DAOs have shown us their unstoppable power to bring people together, who otherwise would never meet, to build innovative products and grow wholesome communities. We would like to shine light back on some of these memorable moments.
Choose Your Fighter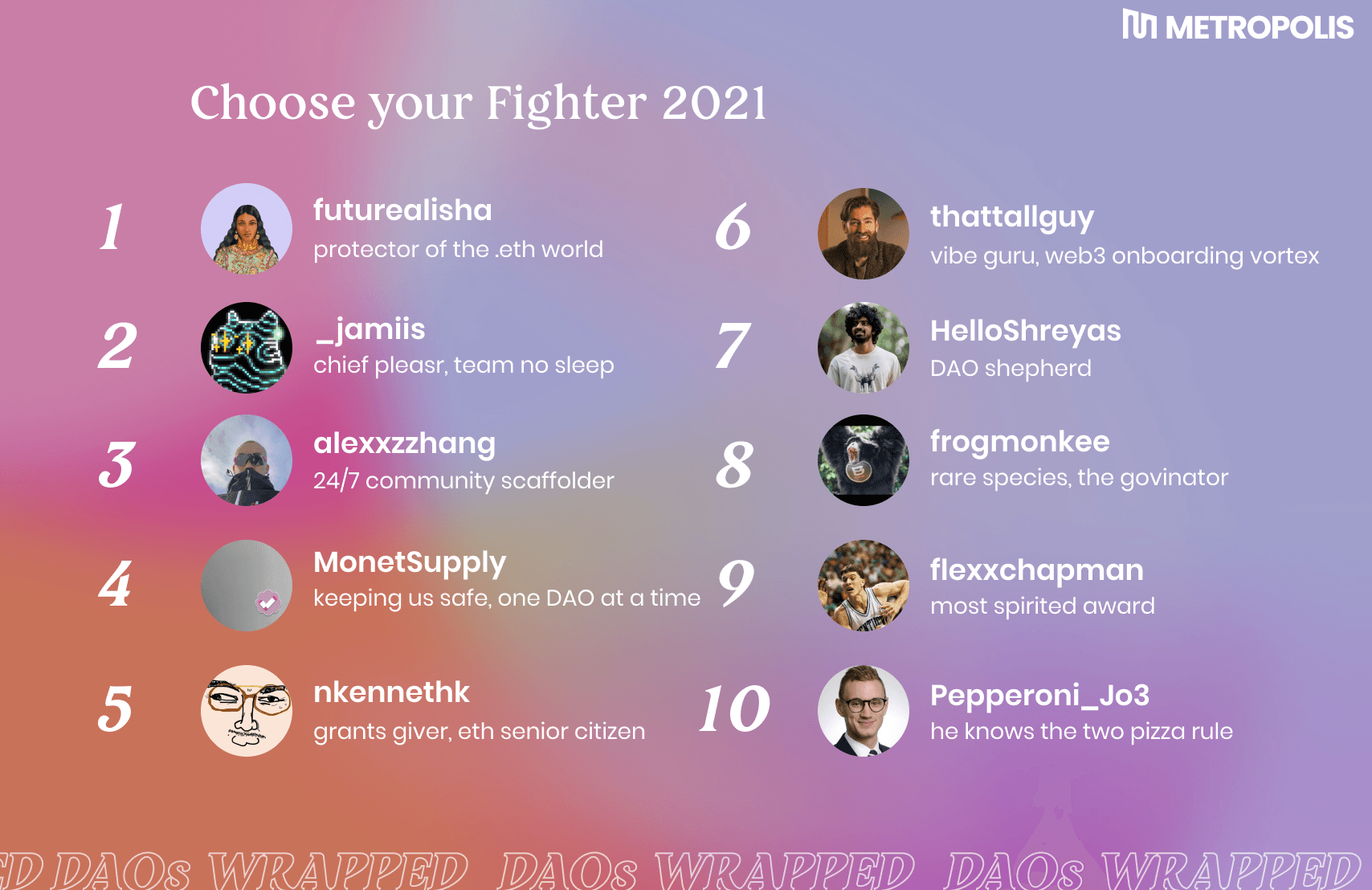 Themes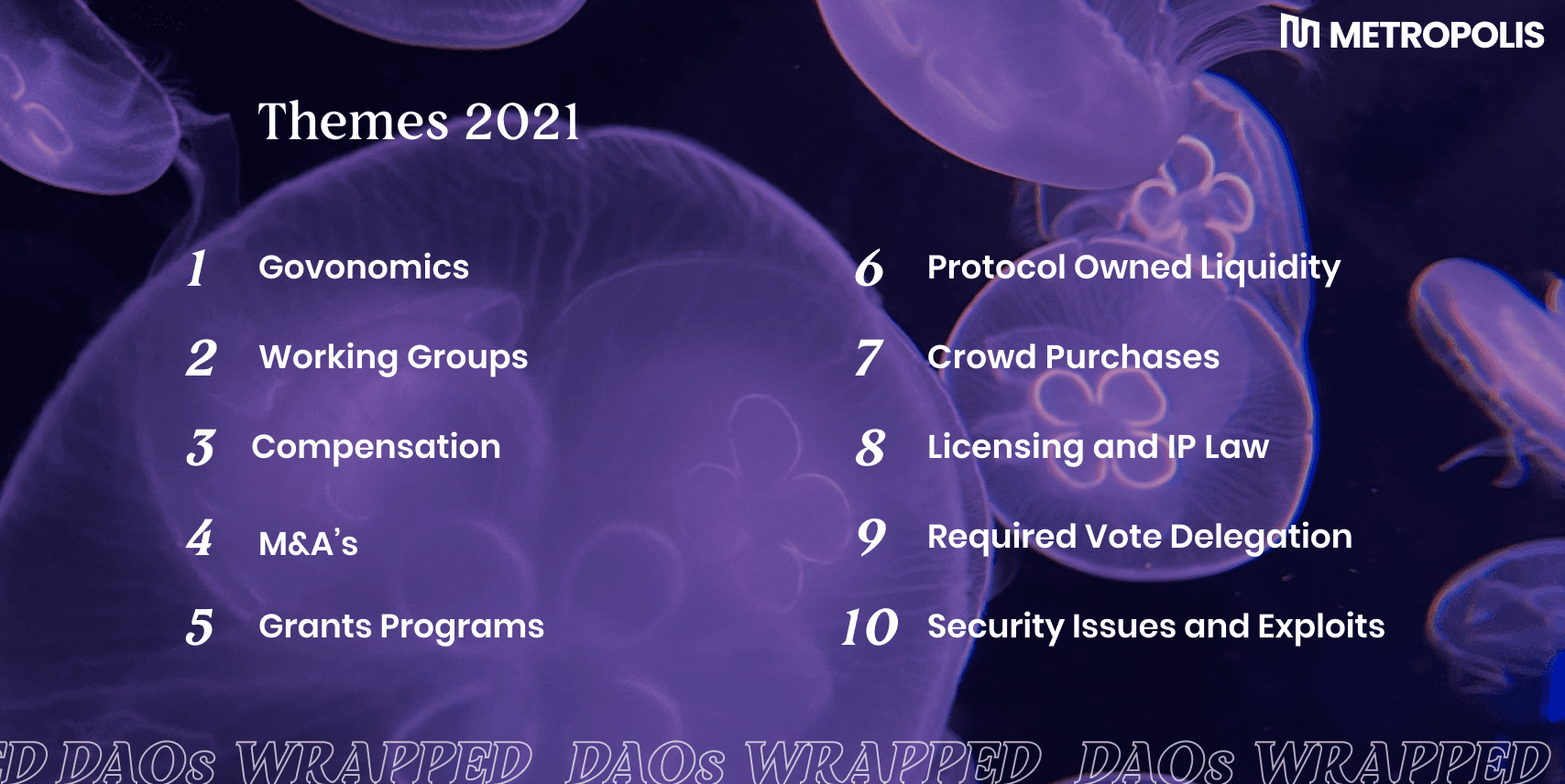 Big trend of working groups popping up: @MakerDAO Core Units, @iearnfinance yTeams, @synthetix_io Spartan Council, @Metropolis pods :)
Compensation with bounties, streaming, circles, oh my! @Coordinape, YIP-57
M&A's activated this year with @FeiProtocol/@RariCapital, @Keep_Project/@Nucypher, @GnosisChain/@xdaichain
Successful completion of grants programs by @uniswapgrants, @compoundgrants, @AaveGrants and many others
The power of protocol owned liquidity was demonstrated by @FeiProtocol and @OlympusDAO
Let's buy stuff together! @constitutionDAO, @prtyDAO, @pleasrDAO, @KrauseHouseDAO, @cityDAO
Fiery discussions about licensing and IP law @CurveFinance, @Uniswap and @AaveAave
Two of the (spoiler alert) cutest DAO airdrops this year, $GTC and $ENS, rolled out with required vote delegation
As always, security issues and exploits were a bit of a thing: @SushiSwap, @compoundfinance,@RariCapital, @AlchemixFi, there may also have been one or two on @BinanceChain 🤷🏼‍♀️
IVOs: Initial Vibe Offerings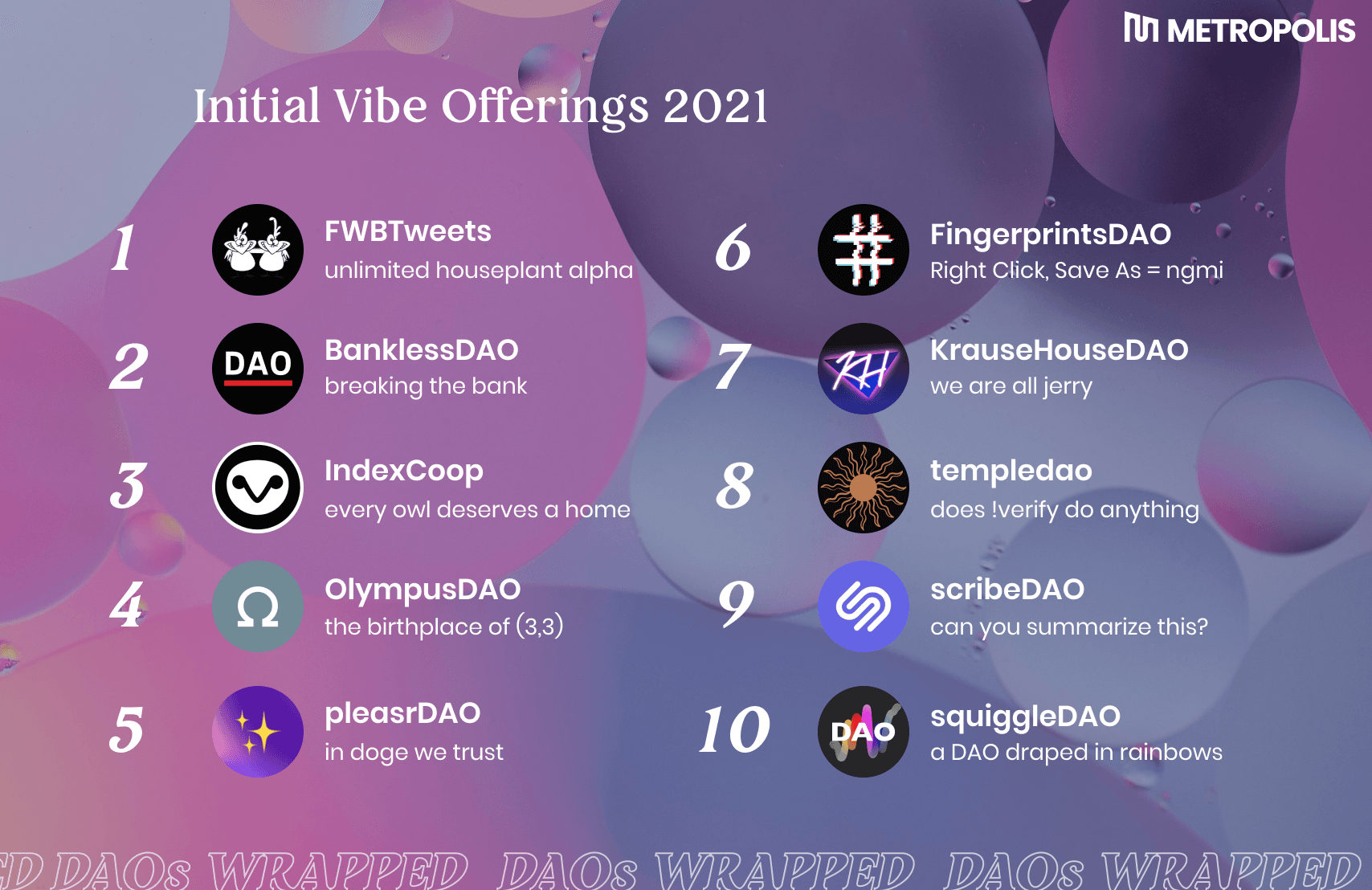 Top DAO Moments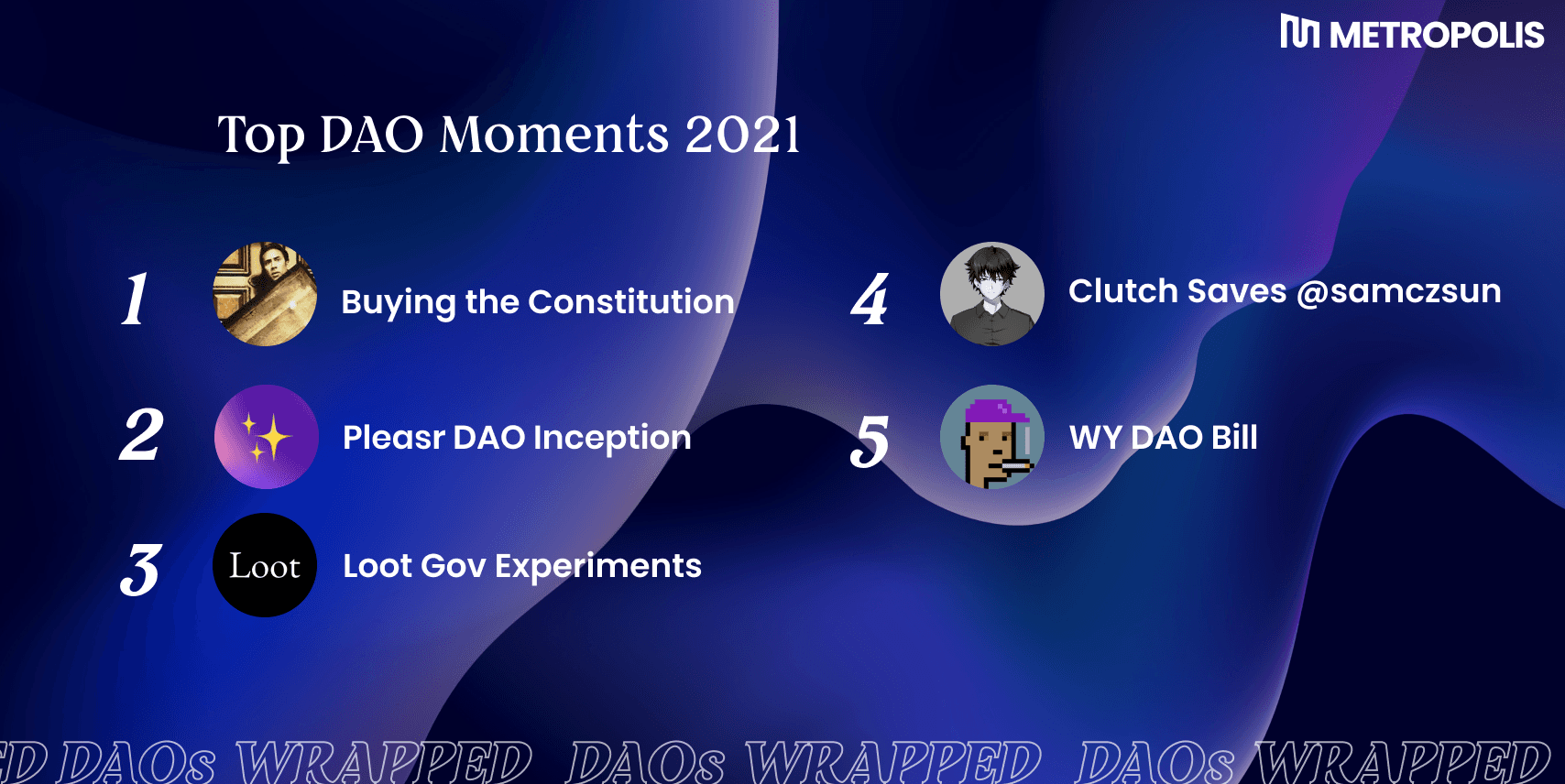 Top DAO Crowdfunds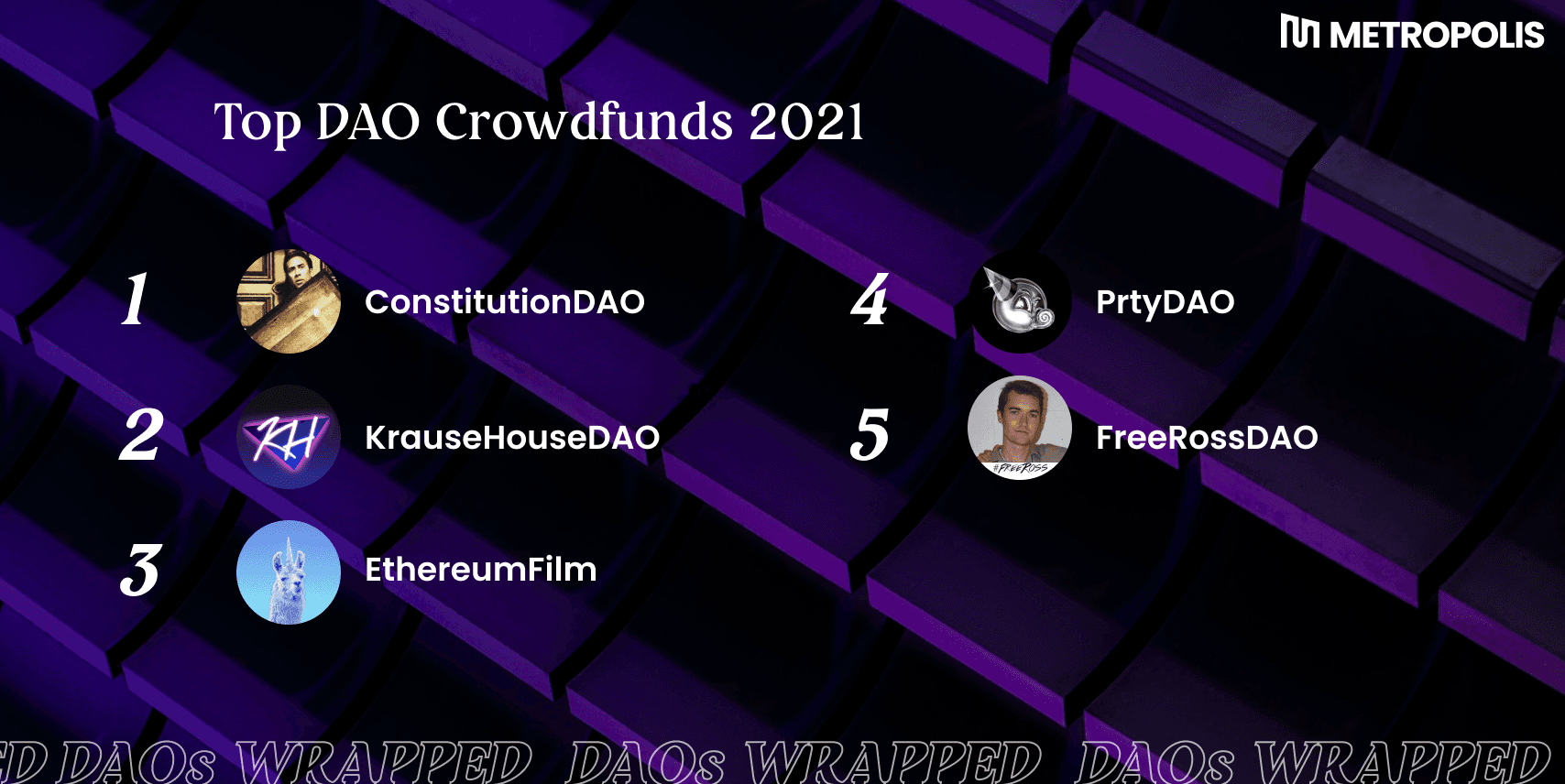 Unstoppable DAOgenerates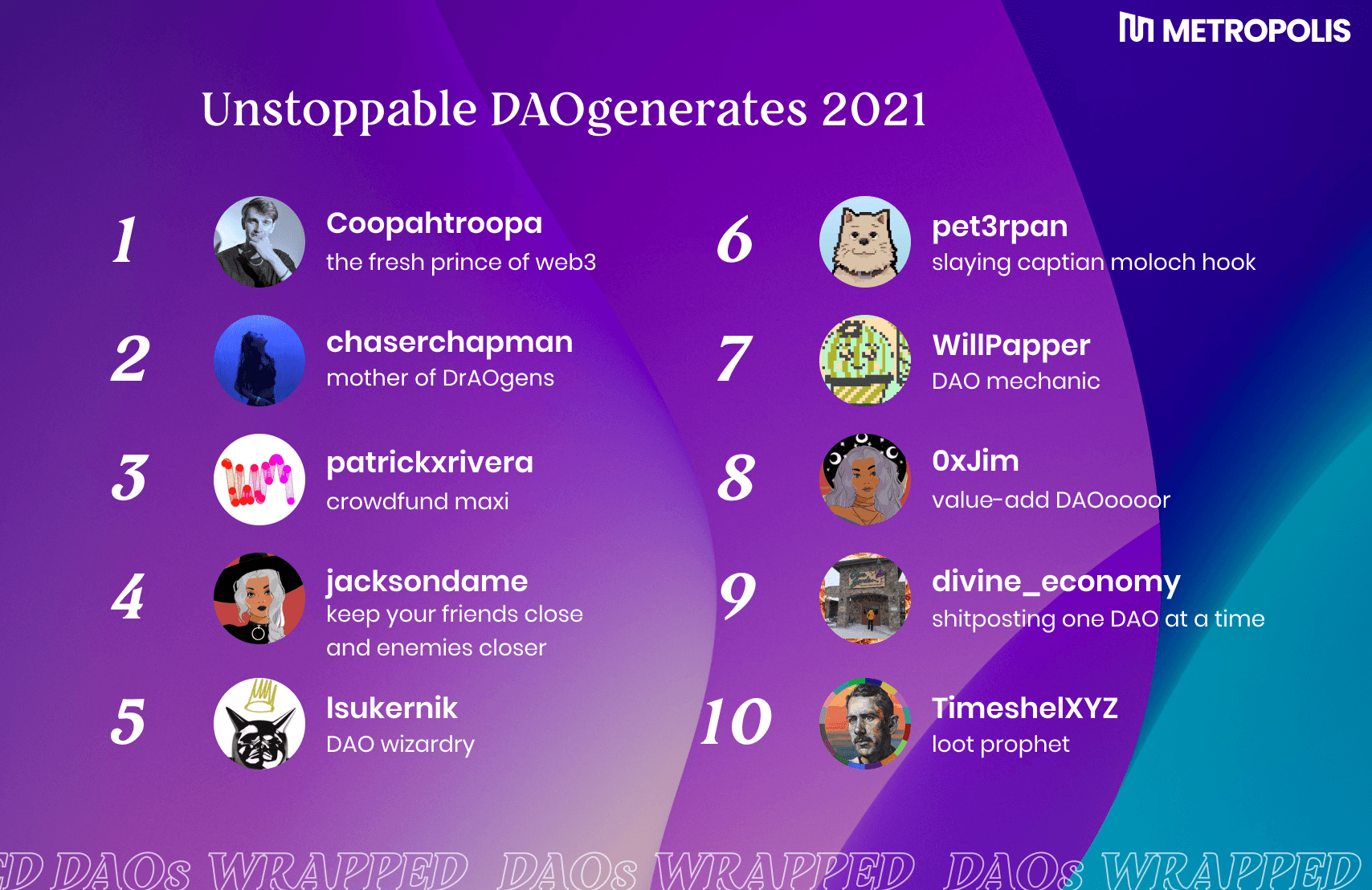 Most Contentious Governance Proposals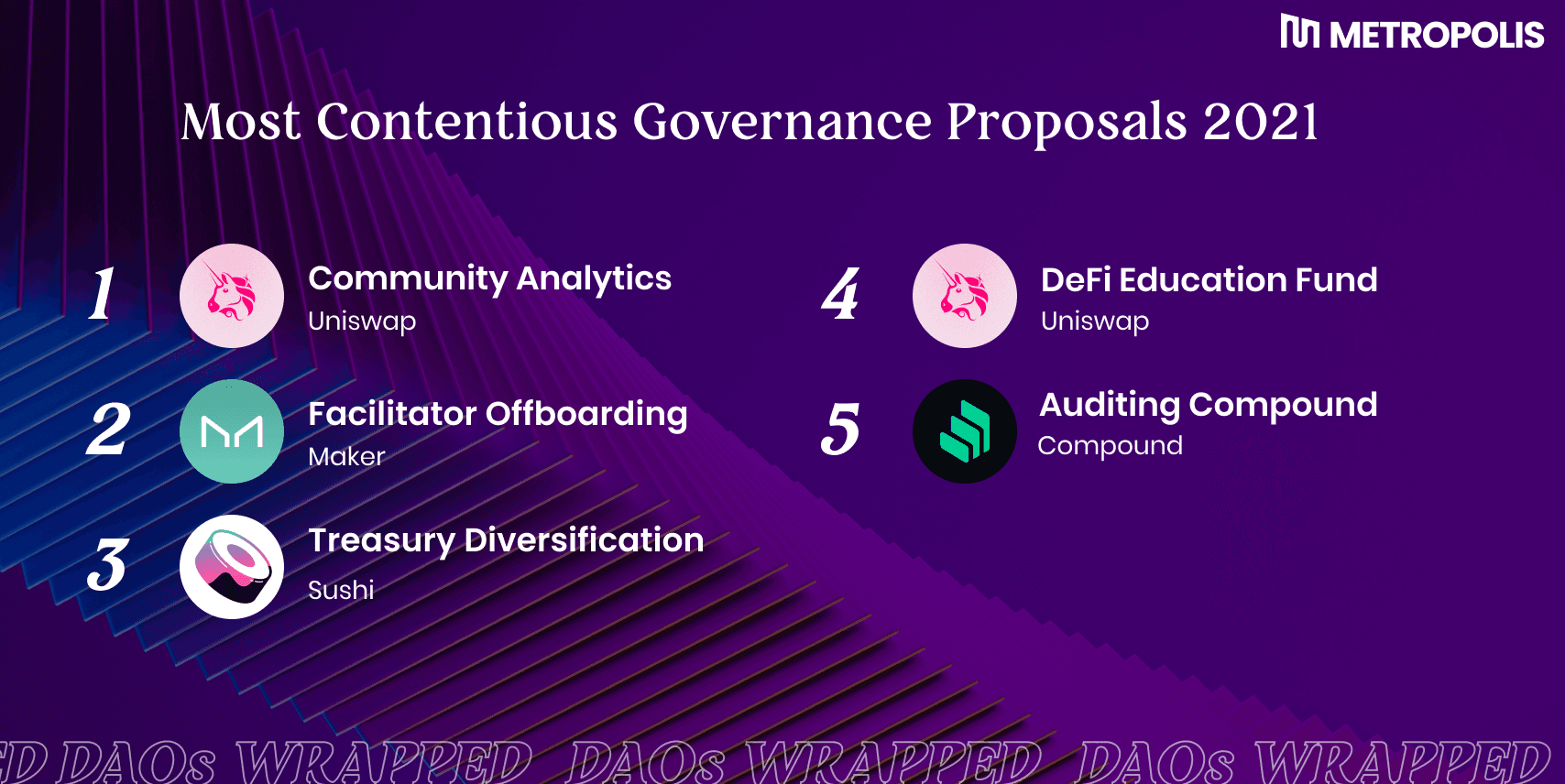 Most Impactful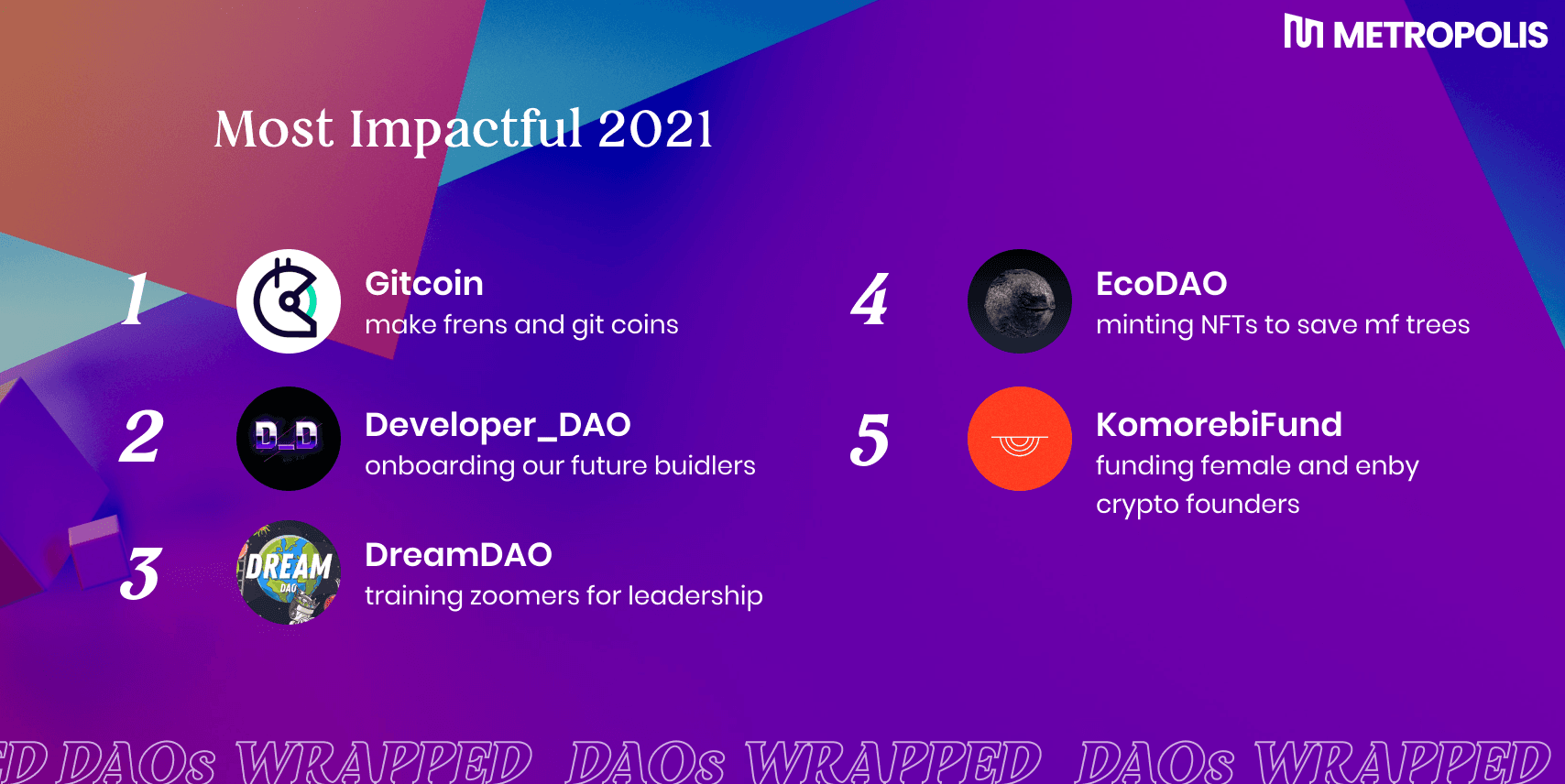 DAO Thot Leaders
Cutest DAO Airdrops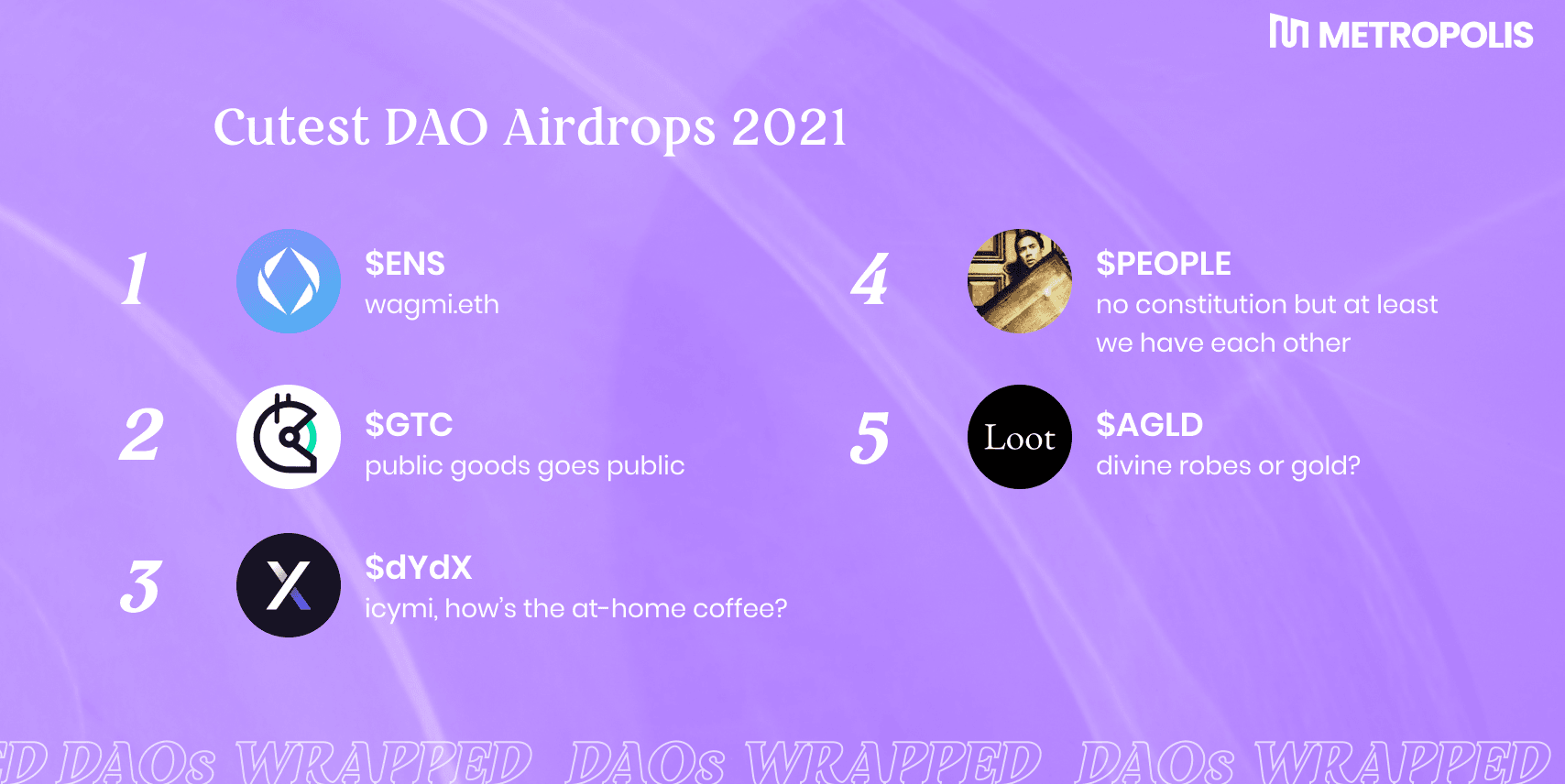 $ENS: wagmi.eth
$GTC: public goods goes public
$dYdX: icymi, hope you're enjoying at-home coffee
$PEOPLE: we didn't get the constitution, but at least we have each other
$AGLD: who needs divine robes when you can have gold
Wise Words on DAOs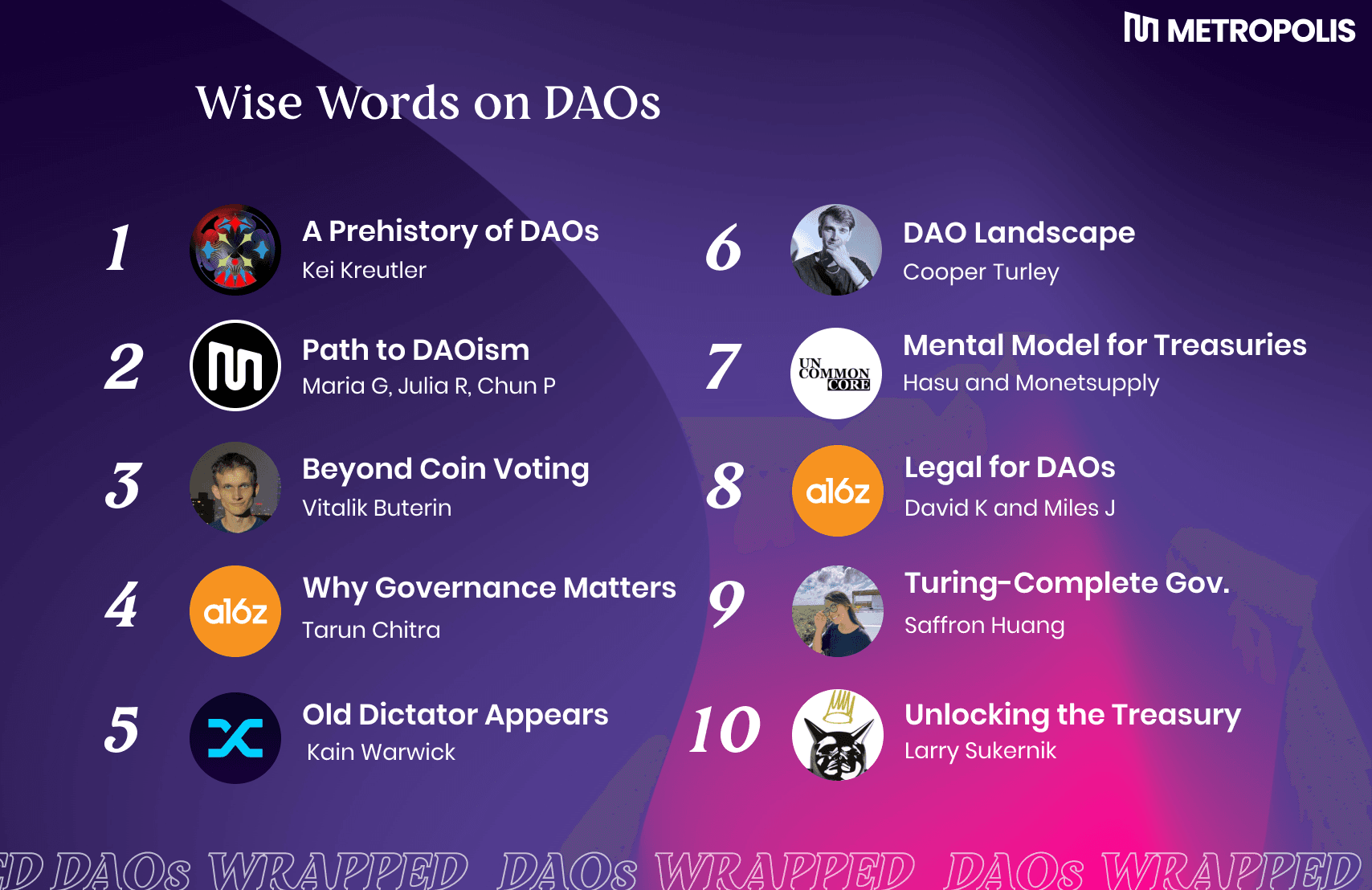 Help Is On the Way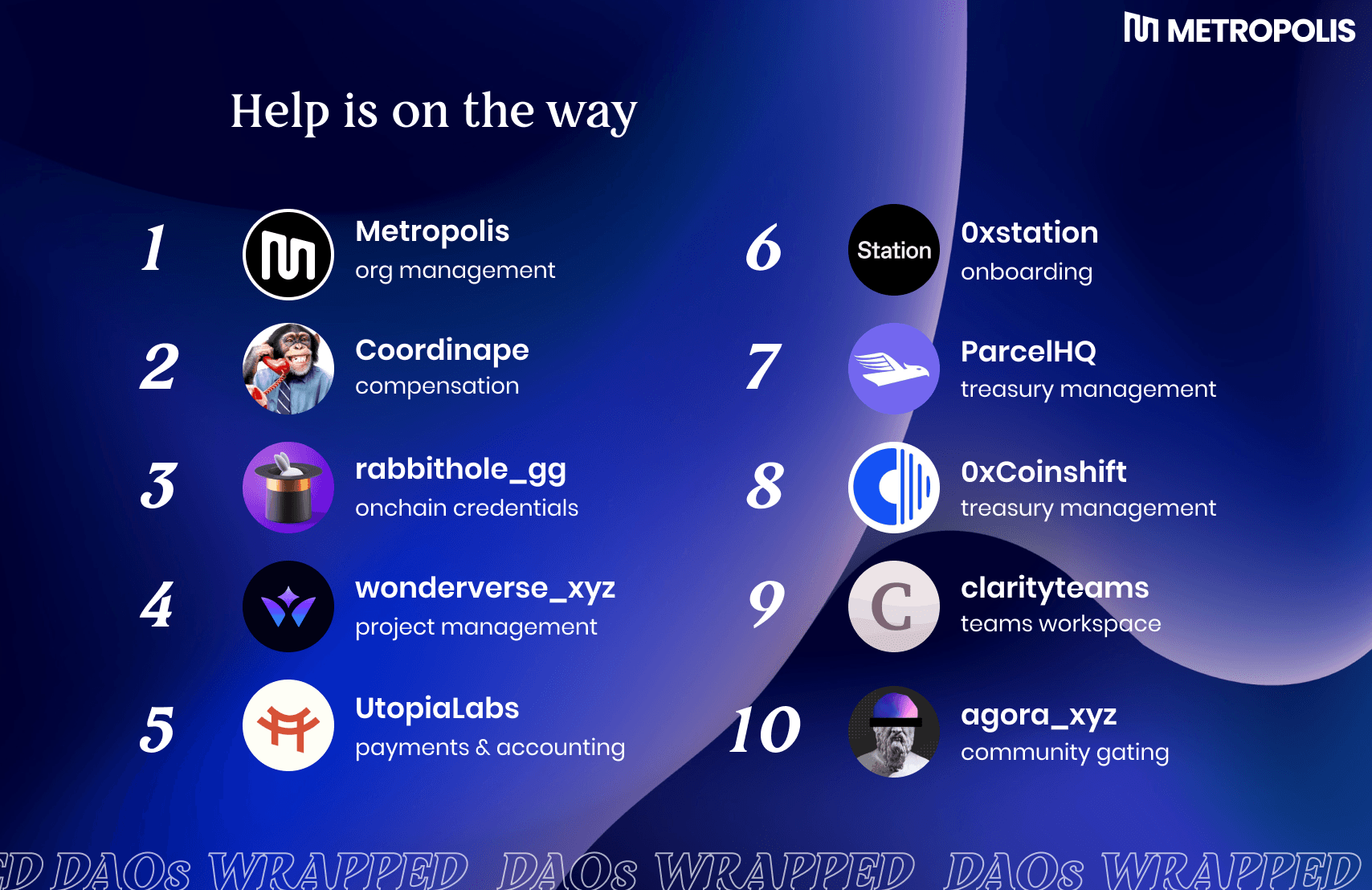 Closing Thoughts
Besides the people we mentioned above, contributors such as @rafathebuilder, @JuliaLipton, @spengrah, @stefdelev, @JonathanHillis, @raihan_, @jaesmail, @SpaceXponential and many others are tirelessly working to improve the DAOs we love. Whether it is finding an entry into social tokens through @ForeFront__ or learning how to start doing sh*t on @layer3xyz, we are all here to perpetuate the vibes and explore the ways that DAOs can change the world.
Web3 gives people ownership of the protocols they use and the communities they vibe in. While it is impossible to predict the technical and social innovations we will see in 2022, it is certain that DAOs will continue their path to unlocking the infinite power of collaboration.
Contributors
DAOs Wrapped 2021 was created by Metropolis, with contributions from @MariaShen, @divine_economy, @eKRENZKE, @lsukernik, @MayaBakhai, @MitchellJHammer, @puntium.
---